Did UFO's visit Egypt? The photos below are believed to be ancient Egyptians but some people have come up with there own theories to what these beings are below. Some have speculated that the heads are to over sized to be of a humans, so what are they?
Ok lets take ancient Egyptians out of this and judge the pictures by what we can see, it clearly shows skinny humanoid like creatures with large heads looking at a circular object emitting lights, do the figures below represent a normal looking human? Personally I would say no but I have had many people argue and say that going back as far as the Egyptians people were more skinny, that would explain the skinny frame but what about the heads?
Below is a human skull and then compared with the Paracas skull there is still much debate about the Paracas skull but I am using as an example as it does closely match the ancient Egyptians skull frame.
There are many differences between the 2 skulls -
Human -
Rounded Head
Medium Sized Eye Sockets
Jaw Structure Quite Large
Nose Socket Fairly Big
Mandibular Structure Looks Thicker and Large On Human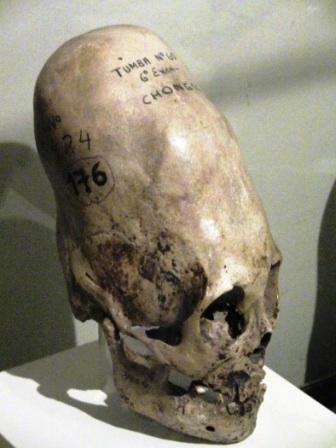 Paracas -
Elongated Head
Larger Eye Sockets
Smaller Jaw Structure
Smaller Nose Socket
Mandibular Structure Looks Thinner and Smaller.