This UFO sighting has been spotted by Carlos Diaz hovering above Mexico, the craft can be seen emitting a bright orange colour. Below are some photos he managed to capture.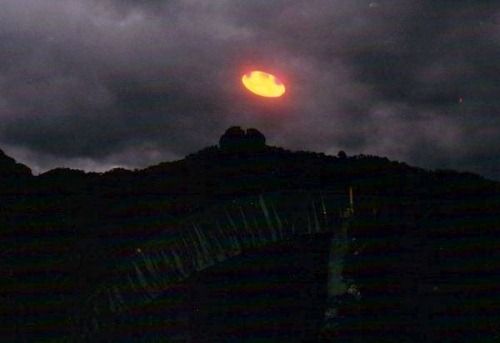 UFO Sighting Description - Glowing UFO

Location - Tepoztlan, Mexico
Colour - Orange
Size - Medium 20ft - 40ft
Characteristics
- This glowing orange UFO has hovering 30 meters above Carlos Diaz, jthe eyewitness he manged to snap 3 photos of the craft.
Carlos Diaz Case
One morning in January 1981, Mexican photographer Carlos Diaz pulled into a deserted car park at Ajusco Park near Mexico City. He was on an assignment for a magazine, and had arranged to meet a journalist who was yet to arrive. Diaz sat in his car, preparing his camera for the job ahead. Although it was early in the morning, the air was thick with humidity which made even sitting still uncomfortable. Impatiently, Diaz began to look at his watch. Suddenly, his attention was caught by a strange yellow glow coming from the valley below him. At first he thought it was a forest fire, but, an instant later, the source of light revealed itself to be a large, orange, oval-shaped UFO, slowly hovering about 30 metres from his car.
Unable to believe his eyes, Diaz quickly grabbed his camera. With it resting on his steering wheel, he began frantically firing off shots. Then, without warning, the whole car began to shake violently. Diaz got out of the vehicle and took two more photographs before the craft sped up vertically into the sky, leaving Diaz in a state of shock. This encounter marked the beginning of what was to develop into one of he most fascinating and long-running contactee cases in the history of UFOlogy. Today, the case remains among a small minority of alledged extraterrestrial encounters to be supported by verified film documentation that has stood up to the scrutiny of a range of experts.